Reading Time:
6
minutes
In a team meeting, a member recently asked whether anyone uses Kanban to track personal to dos. This prompted me to write up a post because even outside of work I've been promising a few people that I'd document how I use the bullet journaling technique to keep track of my To Do list. I'd love to use it as a starting point for people to share how they manage task tracking so I can make my process even better! Please add your killer process in the comments!
The Problem
One of the areas of work I'm less strong in is follow-up. I may be in a meeting, even a 1:1 and be taking notes about what we're talking about, even documenting action items. However I'm not always disciplined about following those notes up, turning them into action, or keeping all that note-taking in one place, thus it often really only helps me process what I'm hearing. It doesn't always turn into work.
So, last year I decided I needed to make sure the things I need to action are kept in one place in a useable way so that they were not only documented across time but were also easily acted upon.
Evaluating options
I experimented with a number of tools and processes people or blog posts had recommended. Things like Trello, Asana, Remember the Milk, even Bear, (the text editor I drafted this post up in) took a turn at being my To Do list manager. I also experimented with a Github project to keep track of my work.
They're all great on different levels, but they all meant having to log in, or pick up my phone and log tasks which I just didn't do consistently. Even with browser extensions and other facilities to access them, none of them, however much gusto I started with, managed to gain any traction in my day to day workflow.
Over and over, I'd find myself taking notes in a book or pad on my desk just to the right of my trackpad. Once again, I'd lose notes tearing off the paper to use a clean page (who doesn't love the possibilities of a fresh clean sheet to start writing on??!) and the action, follow up, or the thought would end up in the bin.
The Actual Solution (for me)
At a company retreat in 2017 a colleague did a short talk about Bullet Journalling and while I actually don't recall a single thing about her talk other than the words 'bullet journal' (sorry Kat), it piqued my curiosity. As a result I dug into some research about it when I got home.
What a world I stumbled into… just a quick search on instagram with the bulletjournal or bujo hashtags may be enough to impress (or intimidate – as it did me). From simple origins, bullet journalling has morphed into amazing works of art that don't just track to do items, but document peoples' lives.
In my experiments with it, I have stayed pretty true to just the core process which I have been using all of last year and into this one. The fact it's followed me into a new year is a testament to its effectiveness. The fact that I haven't got sidetracked into documenting anything more than my to do list has helped. I doubt I would have kept up trying to document any more than that.
Here's how it works
Tools
Start with a journal, one with dotted pages because you can then rule the pages up into formats that work for you. (Flexibility. Marvellous.)
Mine's red, natch.
Last year I used a Moleskine notebook, this year it's a Legami one, which I like because the paper is white, and because the page numbers are already printed in the book, and because it has a contents page built in… so it's giving me a head start. Also, though I had pages left in the Moleskine, I opted for new year, new book. Yessss.
None of this matters. Book. Dots. Next.
I have a ruler tucked into the back of the journal (pockets rule) and carry black marker pens of various widths, because stationery, and because they were on sale for half price at the local newsagent which is closing down 😭. So I can update it/rule it up at any time.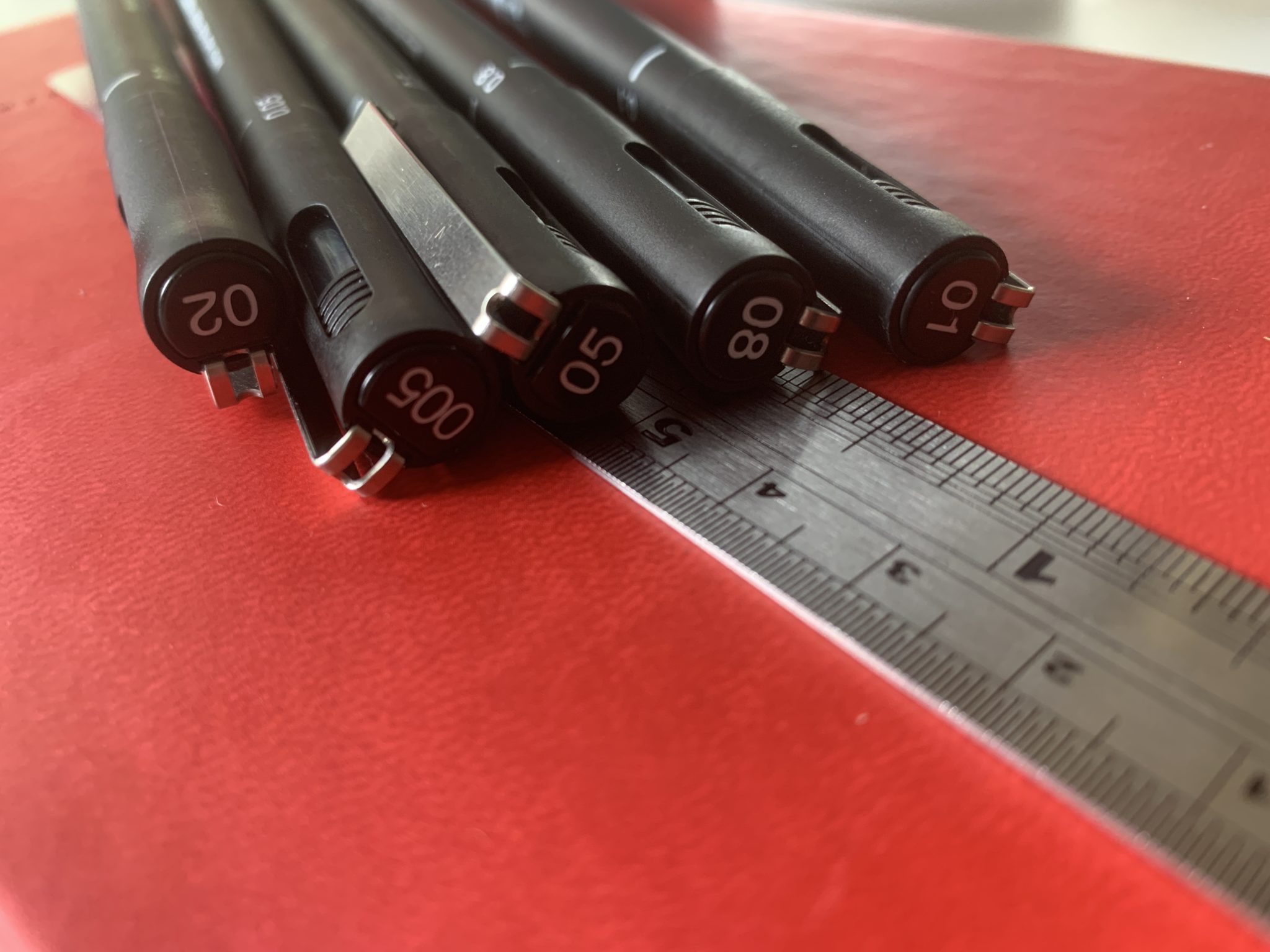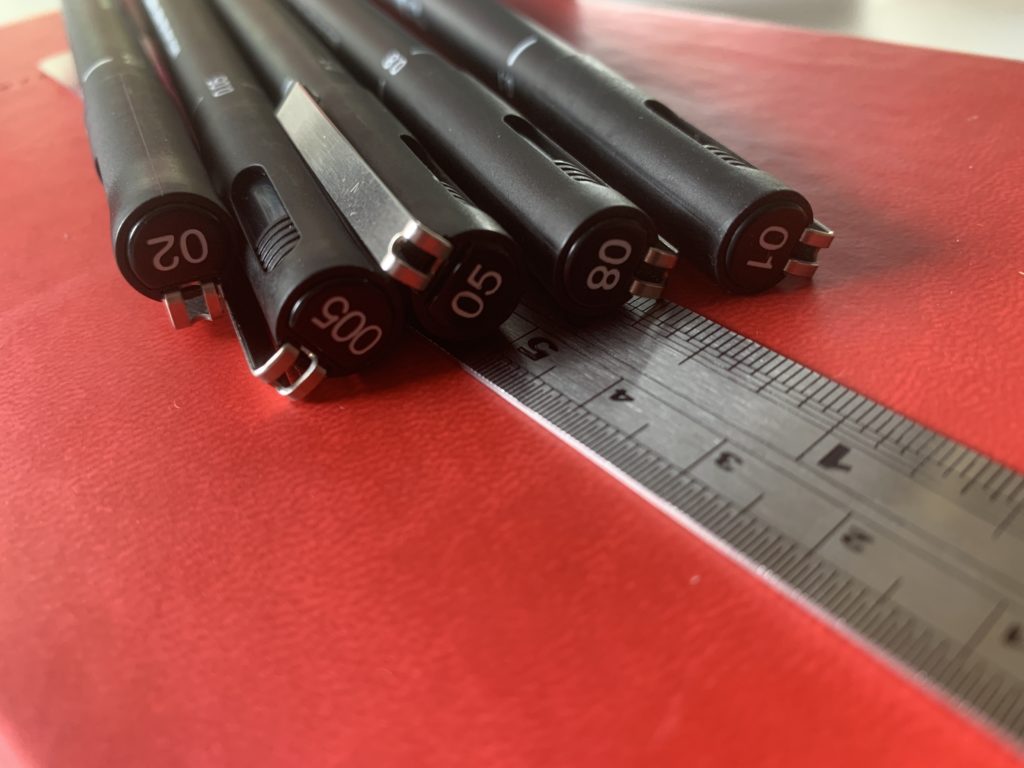 I mark up the journal into two layouts.
A monthly calendar at the beginning of the month on a single spread
Followed by weekly calendar across a double spread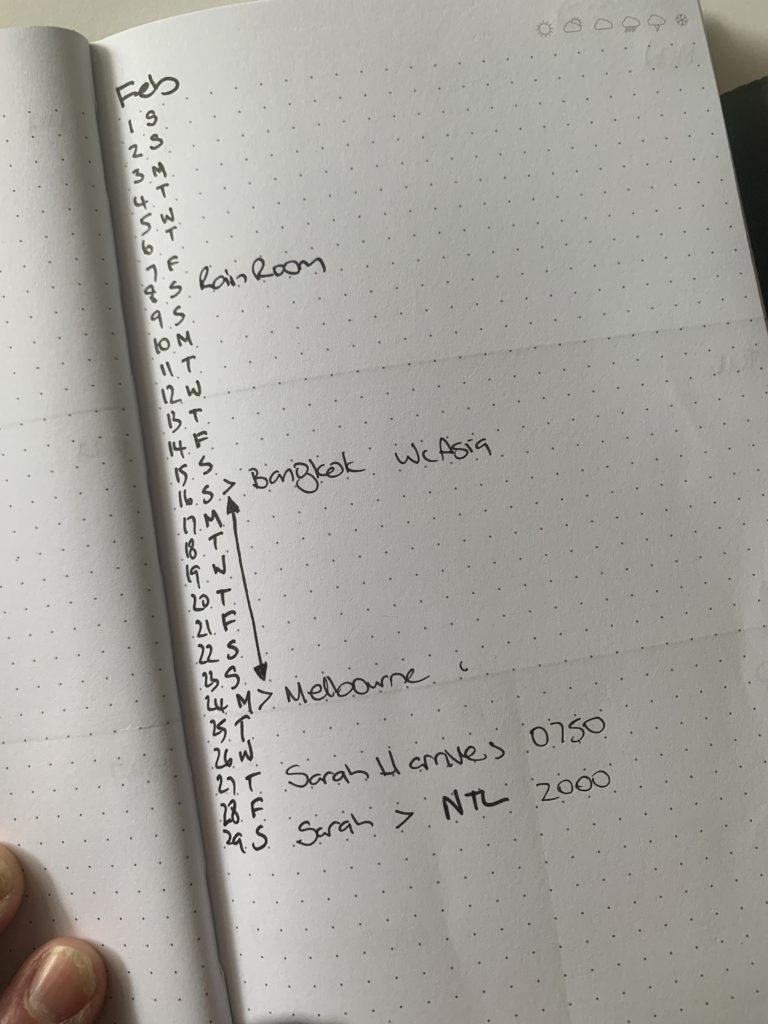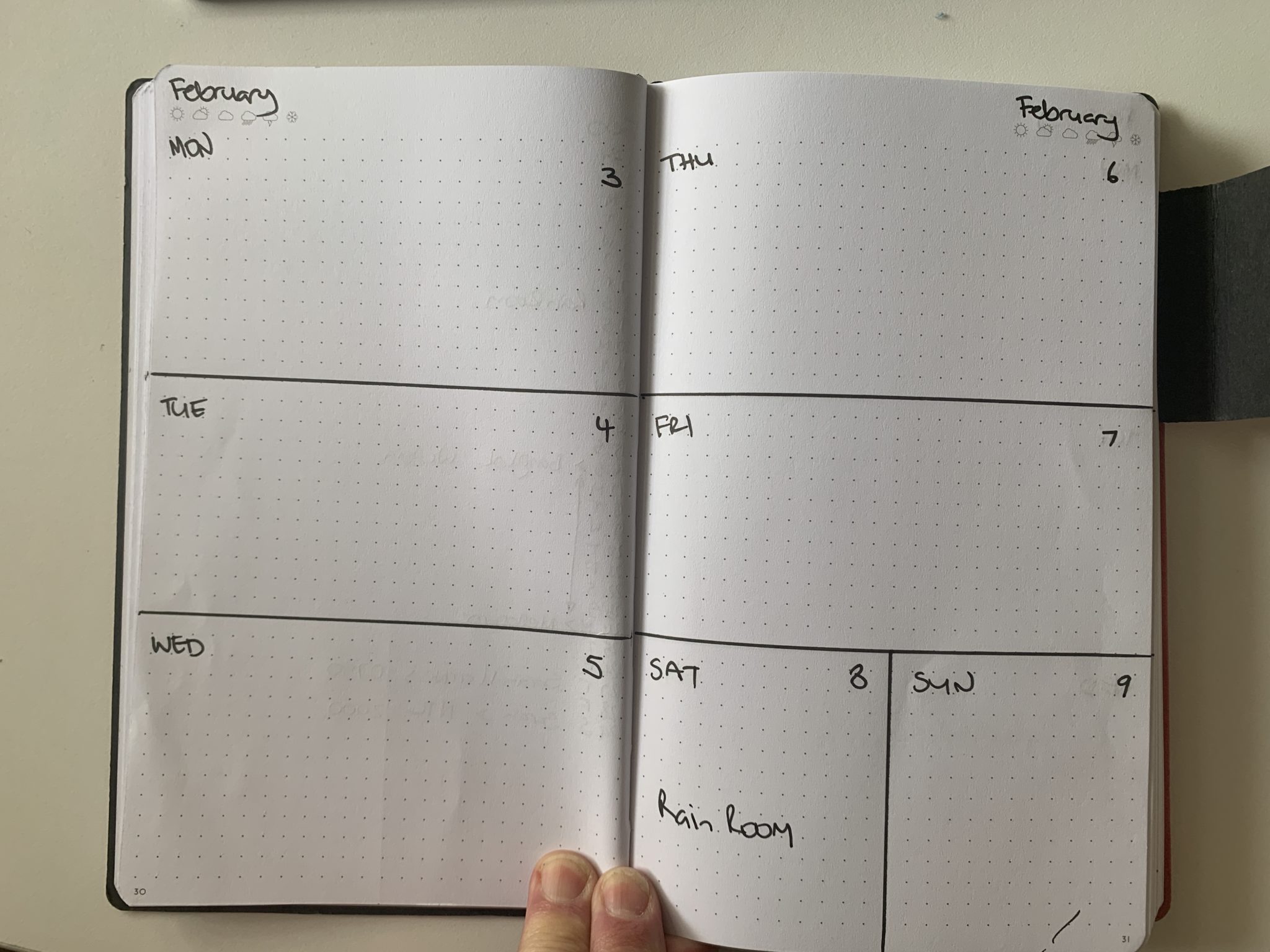 I used to add page numbers to every page and add a contents page at the front of the book but never actually ended up using it. I had stick on tabs for each month on the old journal, but the new one has a built in bookmark, and the book is mostly open at the current week when I'm working anyway.
I document my lists like this.
On the monthly page I add signature events that I want to be able to see at a glance. As often as not these are personal events, birthdays, paydays etc. I don't usually use them for work related events unless they're important deadlines (reviews, feedback deadlines etc.)
On the weekly page I document like this, it's where the bullet in bullet 🎯journal comes in.
I write a bulleted list of all the to do items I want to get done that day, this includes but isn't limited to tasks, meetings, basically anything that needs attention.
The benefit of a page that limits the number of lines for each day means I don't have one long to do list that may sometimes seem unconquerable and I can plot priorities. I can plan into next week so that anything that isn't immediately needed doesn't mock me, it's out of sight and therefore mostly out of mind.
When I've completed a task? I draw an X through the bullet. Done.
If I don't complete my list? I write an > through the bullet so I can see it got punted and I copy the undone tasks to another line in tomorrow's panel, or later in the week.
That's it.
Benefits
The core benefit is that I can see what I need to day, can see what I got through yesterday, and can see what I'm going to be doing next week.
I get a sense of accomplishment when all those bullets have been crossed out.
I have all the things I've achieved in one place, it's helpful to be able to look back on it and have a jog for my memory when I'm reporting back to my manager some of the highlights of the time between 1:1s.
Challenges
It's not particularly transparent – maybe this is important, I'm not yet sure. I know I certainly don't need to see what my team are doing every minute, maybe my team don't need to know my to do list. That said, some of the feedback I've received this year is about working in the open, so I'll be exploring ways to make some of what I've got going on, and coming up more visible, maybe the Github project will come into its own here.
After posting this in our intranet someone asked me how I manage the backlog of things that aren't in the day to day list. I didn't have a strong answer… partly because I don't have a deep backlog (I probably should, I have lots of things I'd like to do), but this system doesn't lend itself to project style management where there's a lot of work and a long season to spread that work over, it's specific to productivity today, and tomorrow. So, I'm going to do some more thinking about deeper backlogs and circle back. Maybe the Github project will come into its own here as well.
Next
Finally, I'm adding a new item to track this year, I'm adding in the hours I'm doing each day, just to keep an eye on the time I've been 'on' that day. What I'm hoping this will do is help me make sure I'm not overdoing it.
So that's it. A simple but deadly process that's working for me.
What do you do to keep track of your to dos?