Reading Time:
2
minutes
I posted this quote on Twitter today
"How do you explain what it feels like to get on the stage and make poetry that you know sinks into the hearts and souls of people who are unable to express it?"

Nina simone
It's a quote that speaks loud to me on a number of levels, initially as a singer who recognises that peculiar thrill of performing the ineffable to transform the experience for an audience.
It also speaks to my inner jazz enthusiast who first was introduced to the music of the author alongside the great artists of the era, and genre, which influences still, the soundtracks of my best days.
I posted it today however, because it also speaks to me in the context of my professional community, as from now on this name is now forever associated not just with her music and activism, but with the release of WordPress 5.6, 'Simone' named of course for Nina Simone, legendary singer, songwriter, musician and activist.
I couldn't be more delighted to see a release named for such an iconic woman. Even more so because it is in fact, an iconic release.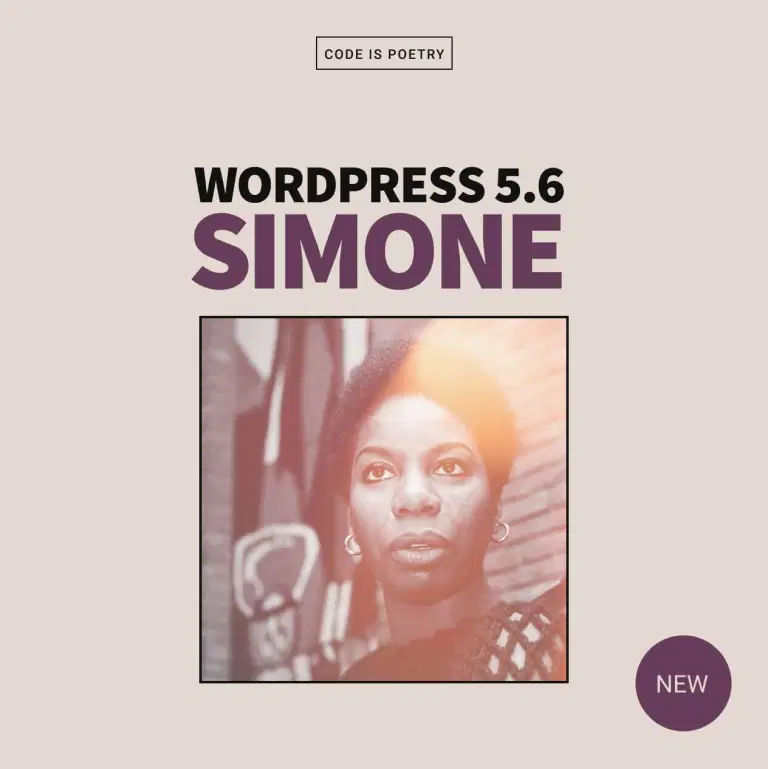 It's an iconic release because for the first time the squad responsible for it is made up entirely of people identifying as women and non-binary. Entirely.
I'm not going to give oxygen to the critics who decried the plan citing that involvement in these things should be merit based instead will amplify core developers like @peterwilsoncc who have been involved in multiple releases when they say…
Most WordPress releases run very smoothy. The WordPress 5.6 release has been the smoothest I have seen for several releases. The release squad brought an extra layer of polish.

Peter Wilson
From my view as the co-ordinator, there wasn't a single person who didn't deserve to be there on merit. By removing this one barrier to entry they were unleashed to do amazing work, and undoubtedly to participate again in future releases. This is why representation matters so much.
It wouldn't have happened without the idea first being proposed, and a plan put in place to actually make it happen, amazing mentorship from previous squad members, and from a community who have embraced this release and this squad, for which we are all very grateful, thank you.
Fabulous work by the release team! #representationmatters https://t.co/cpT7lxPFcU pic.twitter.com/E0iHGk6p4a

— Mike Little (@mikelittlezed1) December 9, 2020
The tagline 'Code is Poetry' is synonymous with WordPress. On this occasion, the code we delivered in Nina's name does for our users what her music and poetry does for her audience, it gives people a way to give voice to that which has sunk into their own hearts and souls.
I am grateful, and awed to be a part of it.

Also, updated to include massive thanks that are due to my employer Human Made who made it possible to spend some of my work time every week working on this effort. 👏🏼